Personally, I am productively stymied by clutter on my desk. Only after I take a moment to de-clutter, can I really start getting things done. Yet in the book "A Perfect Mess," Eric Abrahamson and David H. Freedman claim there are hidden benefits to being unorganized and cluttered. The book suggests a messy desk can be the product of an effective worker and that there is a price for being neat in terms of staff, time and other costs.
In the end of the day, it is your choice. If upon approaching your messy desk, you are able to get right to the key work at hand and power through, then you need not waste extra time getting organized or creating systems to stay that way. If, however, the mess has you distracted, jumping from email to phone call to reviewing a file, then the flag is red. If you procrastinate often, simply not moving forward on the high-payoff work, then that messy desk is costing you time and money.
If, as Feng Shui states, piles of files block your capacity for thought, here are some ideas.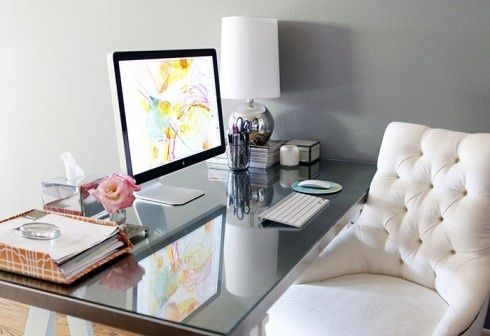 Get a file cabinet. Most offices require at least a two drawer file cabinet for reference documents that aren't active; read more here on the key types of files. Create a logical filing system to house that paperwork.
Bagua your desk. Objects on the desk can be organized according to energy content:
The left side of the desk is for new projects, ideas, marketing and sales issues.
The right side is reserved for bills, reports and lists.
The area in front of you should remain completely clear.
Trash your trash. Even on your computer, throw away your garbage. Save only what you really need. Set yourself a goal (and put it in your calendar) to ruthlessly delete all redundant data every three months. "Data" in this case means both paper on your desk and files / emails in your computer. The result: You (and your computer) will work faster and your thoughts will have free reign!
Get the right bins. If you don't have bins for your trash, that paper will end up as clutter. Make sure your office has:
A shredder, or a bin for paper to shred… and a service to get it occasionally
A bin for recycle paper
A bin for trash
So, what are you? Do you power-through clutter, or does a clean desk rule?