With his distinctive and lyrical voice, Brian Doyle's description of a heroically cluttered room  grabbed me instantly. Do you think the room is cluttered? Take a meditative 3 or 4 minutes well worth your time to read this excerpt – it reads like fragrant poetry. Then take a vote. Be sure to comment on why you think it is or isn't clutter.
Excerpt from Mink River, a novel by Brian Doyle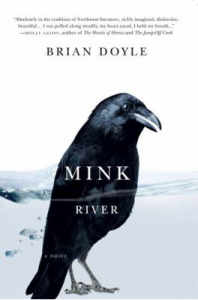 Pg. 27. Description of a shop called Other Repair, owned by a gentle paternal character named Owen.
"It is a heroic clutter. It is the clutter's dream of clutter. Close your eyes for a minute and think of all the closets you have ever crammed with stuff, and all the basement workbenches asprawl with tools, and the shelves crowded with fishing gear and sports equipment and paintbrushes and furnace filters and nails and eyelets and grommets and washers and such, and merge them all in your mind, not haphazardly but with a general sense of order, a relaxed and affectionate organizational sense, such that you would have a pretty good rough idea where something might be if you needed to find it, and when you went to look for it you would find it in less than a minute, and even when something took more than a minute to find, you would find something else that you'd been looking for not desperately but assiduously; then think of all the rich dark male smells you have ever liked, the smells that remind you of your dad, your grandfather, your uncle, your older brother. Paint in cans that have been imperfectly sealed so a touch of the smell leaks out.. And the smells of sawn cedar and maple and fir boards. Ashes. Varnish. Plywood. Cigars. Somewhere on a shelf a redolent piece of redwood. Sweat. Boots. Oil. A hint of gasoline as is if it had been spilled quite a long time ago and cleaned up meticulously but the room remembers when it happened. Rubber. The cold impersonal greedy smell of metal. Sawdust. The handled smell of tools. Liniment. Coffee. The brown smell of boxes and cardboard. Beer. The vacation-cabin smell of pine. Oiled saws. Old newspapers. Woodsmoke. The burnt wire smell of old radio and television tubes. Turpentine. The grandmotherly smell of old upholstery rising warmly from the sagging couch in the corner. Apples. Wet clothes. Bread. ..
It's stew of smells and sense of ragged order was the very essence of Owen's shop; children loved it on first sight and old men felt so comfortable there that they would bring Owen things to fix that he knew and they knew didn't need fixing, although he charged a flat fee of $10 per job for such things, which the old man paid happily, figuring that $10 was the fair cost of an afternoon spent poking around Other Repair, which they also loved because Owen let them poke around freely, without rebuff or boundaries, although he politely declined their inevitable requests to actually repair things, though unanimously they offered to work for nothing, and many of them had offered to pay for the privilege.
Owen's son Daniel recently began a list of the things in this room: watches, alarm clocks, toasters, tape recorders, tape decks, microwave ovens, lawnmowers, half a boat, telephones, computers, kitchen clocks, chairs, tables, televisions, screws, bolts, an alarm system for a boat, answering machines, global positioning devices, fishfinders, fishing reels, hedge clippers, scissors, …screwdrivers, an anvil, winches in three sizes,.. and taxidermy tools which is where Daniel stopped recording what he saw, because the tools were being applied to the top half of a huge beaver and Daniel wanted to help which he did to the quiet pleasure of his father."
What do you think? Is this clutter?