Nothing Found!!
Here at BALANCE, we believe that getting organized is all about Sustainability. Putting the "stuff" that doesn't serve you back out into the planet is simply the "green" thing to do. There is much you can do to create a more sustainable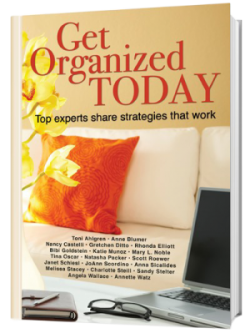 home living space. Throughout our service offerings, we will provide practical methods to ensure your space is eco-friendly. If this approach is important to you, it is assured here.
Get Organized TODAY, a book co-authored by Nancy Castelli and several of her peers, provides lessons on getting organized in every facet of your life. Because it's her passion and key driver for her profession, Nancy's Chapter is called "Get Organized for the Planet" with outlines 10 incredibly easy ways to clear your clutter in an Eco-Friendly way!
You win and the planet wins!
Planet-friendly resources for letting go:
In San Francisco, Community Thrift

623 Valencia St., S.F., CA 94110 – (415) 861-4910
http://www.communitythrift.org
When you donate at Community Thrift, the charity you choose will get the proceeds of your donation. Community Thrift will actually send them a check from the proceeds of your stuff!!! It's a Double Give!!
http://www.communitythrift.org
If you have lots of big stuff, like furniture in multiples, these folks will pick up!

Nationally, Salvation Army:

You may not agree with their Christian message, but it comes from a place of love. What I love about Salvation Army is

They are not picky about what you bring to their centers. The items they can't sell in their stores are sent to indigent organizations where they are needed or disposed of responsibly.
Many of the locations are Adult Rehabilitation Center, so their workers are getting a new start in life.
They pick up: Call for a truck pick-up at 1-800-SA Truck!
Many locations – the website had a location finder
http://www.salvationarmyusa.org/

Nationally, Habitat for Humanity ReStore

Organizers love ReStore. Habitat for Humanity, already a renowned organization for building homes, has expanded. ReStores are nonprofit home improvement stores and donation centers that sell new and gently used furniture, appliances, home accessories, building materials and more to the public at a fraction of the retail price. Proceeds are used to help build strength, stability, self-reliance and shelter in local communities and around the world.
http://www.habitat.org/restores and search for a ReStore near you.

In San Francisco, SCRAP – Scroungers' Center for Reusable Art Parts

SCRAP takes donations of high quality, low cost, re-usable materials such as fabric/textiles, paper, jewelry findings, wood, buttons, plastics and more. Donations are collected, sorted, displayed and sold at bargain basement prices by SCRAP for artists, teachers and community groups.
http://www.scrap-sf.org/

Please don't put these items in the trash – they are VERY TOXIC! Live on, Planet Earth!

For disposing of batteries, latex paints, fluorescent lights and other toxic materials:
Most Hardware Stores will also take your Latex Paint and other Toxic items.
Your local Waste Disposal company also likely has a plan for accepting your Toxic items
For batteries, in San Francisco:

Cliff's Variety (in the Castro)
The UCSF Store, on Parnassus
Sports Basement
Discount Builders Supply at 13th and Mission
Rainbow Grocery
Whole Foods
SF Recycling and Disposal – On trash day, just put them in a zip-lock bag on top of your trash bin.

For fluorescent lights, in San Francisco, drop them off at:

Discount Builders Supply at 13th and Mission
Rainbow Grocery
Whole Foods
SF Recycling and Disposal (501 Tunnel @ Recycle Road)

For latex paint, in San Francisco, drop them off at:

Cole Hardware Stores (call first to double check)
Cliff's Variety (in the Castro)
Last's Paint Clearance Center (2141 Mission)
SF Hazardous Waste Facility (501 Tunnel @ Recycle Road)