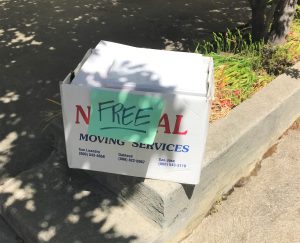 I came upon this on the sidewalk one morning while walking my dog – a box full of binders with a friendly "free" sign on it. My first thought was "Uh, no. That box is not free."
In San Francisco, it's generally accepted to put stuff out on the sidewalk for free. My girlfriend purchased a long solid wood dining table which is now surrounded by a chic eclectic mix of dining chairs – all street side finds gathered over the years. Were those chairs free? You may say to yourself, when you see that free box of binders "..remember that time I was on that committee and we needed binders but had no budget for them. That projects over, but if that happens again, I'll have binders to provide. Yay!". It will be terrific if the day comes that you need 16 or 20 binders, but until that day, it will cost you.
In this spirit of letting go by gifting, I encourage my clients to keep a donation box or two around the household and invite guests to "shop" your donation box. I love it when a friend finds something they really like in mine – it leaves us both happy; the giving and the receiving. These good feelings encourage putting more and more items into that donation bin.
The point here is to manage what you take for free, so it doesn't become clutter. In every case that an item is useful or brings you joy, it's serving you – so it's worth it. On the other hand, if it sits in a corner so you have it "just in case", it's not serving you. Indeed, it's a drain, since it's essentially a message to the universe that you don't trust it. Or, if it's stagnant, in the way and becomes an argument with someone who shares the household with you, it's definitely not free!
Here are some of the ways your stuff can or will cost you:
energy to bring it home and find a space for it
rental/mortgage expense to house it in your space
labor to keep it clean, tidy and in order within your household
if others share your space, the potential relationship burden of negotiating to keep it in your household
energy to let it go someday if/when you find it doesn't serve you
the karmic miss by taking something that someone else actually could have used right away
It's easier to say no when you have to pay for something. When it's free, think from that same mindset. There may be a tendency to say yes because, well, it's free. Instead, think it through. Be selective; be arrogant! I advise to only say yes if:
1. You would buy it
2. It's in better condition and will replace a similar item
3. It will be useful and active right away.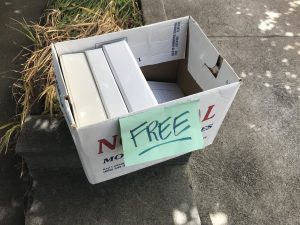 And, no, my girlfriend's chairs were not free. Yet she happily pays to house all those chairs. She keeps them clean, in place and they are well used in her home. It was a great deal.
Shop free. Do so wisely!
P.S. I was happy to see, later in the day, that a few binders were taken, selectively. Ideally they will serve their new owners well.