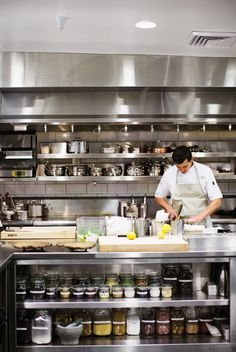 Besides enjoying remarkable food, one of my favorite things about restaurant eating, when the kitchen is in view, is seeing the orderly, mostly low-tech and typically small spaces from which they operate. From an Organizer's perspective, It's art, the efficiency and flow of the production that happens there. A Bon Appétit article enlightened me to some wisdom from Top Chef's on reaching this nirvana in your kitchen at home, that quickly inspired me to clear out some extras in mine.
Daniel Humm (Eleven Madison Park and The NoMad, NYC) advises minimalism. "You have four bottle openers – why? Get rid of it. One ladle is enough. People have all this stuff they don't use and it clogs up the kitchen".
He also advises to get comfortable with your knives claiming you only need four knives! What? He recommends one serrated, a slicing knife, a chef's knife and one for paring. Michael Keller (The French Laundry, SF and Per SE, NYC) suggests only three. He depends on a paring knife, a chef's knife and a slicer.
Similarly, regarding pots, Humm recommends to "pare down your pots to one big one for boiling water or making stock; two sauté pans – one medium, one large; a little pan for sauces; a Dutch oven." Further, he suggest you need even fewer lids!
Michael Tusk (Quince and Cotogna, San Francisco) sounds like an Organizer. He says "Label your drawers so you can pull one open and know where your whisks and spatulas go." This advice serves you well if you share the cooking or when guests are helping out.
Frank Stitt (Highlands Bar and Grill, Bottega Restaurant, and Chez Fon Fon in Birmingham, Alabama.) also sounds like an Organizer. "If you go into any restaurant kitchen, all food containers are labeled and dated". Keep a permanent marker handy in your kitchen with a roll of painters tape to keep your fridge or freezer organized.
Ah, fresh. I purged some. Let me know if you sliced out some clutter to organize your home heart center.