Most, if not all, organizing projects do not start with shopping for containers. Indeed, that is almost the last step. The process actually begins with sorting and purging, then you choose where to put things based on usage, accessibility, proximity, etc. Only then, once you know what you have for a space, is it time to "containerize".
Having said that, any organizing endeavor needs a reward to motivate you, though getting organized is its own reward. This time of year, I like to remind my clients that Container Store is having their annual Elfa System sale, but don't start by going to the Container Store and buying a new closet system. The sale is now through February 13th, so there is still time to organize the closet first. If you do so, the system in which you invest will serve you much better.
Here are the basic steps for closet organizing: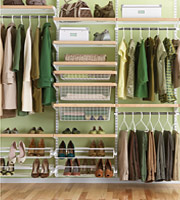 1. Make space. Clear off the bed or the hall way or make some room around the space where the closet is.
2. Get some supplies, including trash bags, a marker, sticky notes, and a few baskets or bins.  Designate the containers as follows:
Elsewhere: This container is for items that belong elsewhere in your home.  Don't waste your time going to put them away.  Put them in this bin to put away later or it may distract you and disrupt your organizing effort.
Donate: This container is for items you will donate to your favorite charity.
Give Away (or name of person, people) – This container(s) is for items you want to give to someone else, perhaps to someone at work or a family member.
Optional:  Sell – should you choose to have a garage/yard sale or sell on eBay or Craigslist.
Recycle – This one is obvious!  For our planet, recycle much as possible!
Shred – This one is necessary if you will be going through paper.  Shred anything with an account number on it!!
3.  Now Organize, which means pull each item out of the closet and decide if that item is active and serving you. Ask yourself these questions:
Is it Useful?
Is it Beautiful?
Do I love it!?
Have I used it in the last year or so?
If there are no Yes answers to the above questions, put it in the appropriate bin to eliminate it.
As I tell my clients, be brutal about your stuff to be kind to yourself. Make the hard choices. The less stuff you have, the easier your life will be; more ordered and productive.
4. Sort the Keep items by type. Also decide whether items are best kept in this closet or perhaps belong elsewhere.
5. Measure and purchase a system. Once you have a completed sort of all the items that will go into the closet, it's now time to take measurements of the closet. You actually may determine that you don't need a new system for the space; all the better as you are now closer to finishing. If you do need a system, measure the closet depth, height, width and be sure to measure the door height and width as well. You can now go online to containerstore.com where a design system will walk you through creating a closet and the parts you need to buy. Or just head out to the Container Store where the rep will help you with the design and what closet accessories you will need, be it drawers, shelves, hanging rods, divider racks, hooks, etc. As you design, consider the categories of items that will go into the closet and general volume, to insure you have the right space for everything. For example, if hanging clothing, how many inches of hanging clothing? If books, how many feet of books?
6. Now install the closet and put everything into it. The installation can be a laborious step, unless you have a willing handyman in the house who will have fun with it. If there is no such resource, hire someone. It serves you to get it done and it serves the local community to employ someone else to get it done. There will be payoff every time you look into your well ordered closet and every time you find something quickly when you need it!
Reward yourself with a well ordered closet now, while the price is right!
And as ever, call us if you need help!